I was born in Italy in the past century and I've always been keen on both art and foreign languages. After finishing my degree in translation I went to France for a number of years, then I moved to Madrid and enrolled in a photography school. During the following decade I concentrated exclusively on painting, feeling frustrated by technical constraints and fashionable trends in contemporary photography. In those years, I took illustration and engraving classes in Barcelona, Paris and Buenos Aires, until I realized that I was trying to make my paintings look like photographs, so I picked up the camera again and resumed my photography education and training, but from a different perspective. Now I've found a personal approach which has freed me up to interpret reality in my own way. I've exposed my artworks in Spain, France, Italy and the United States. I currently live in Madrid.
Vaya m

ucho al cine

, vea muchas obras de arte,

lea mucha poesía y después, en dos horas,

yo le enseñaré a hacer fotos

​ (P. Vera)
"Puis un jour j'ai perdu ma timidité et j'ai arrêté de me demander si j'écrivais bien ou pas : j'avais quelque chose à dire dans chaque chanson" (C. Gainsbourg)
Copyright© -
All images
on this site are copyrighted
. They may not be used except by written permission from the author. All rights reserved
.
Powered by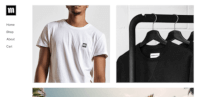 Create your own unique website with customizable templates.